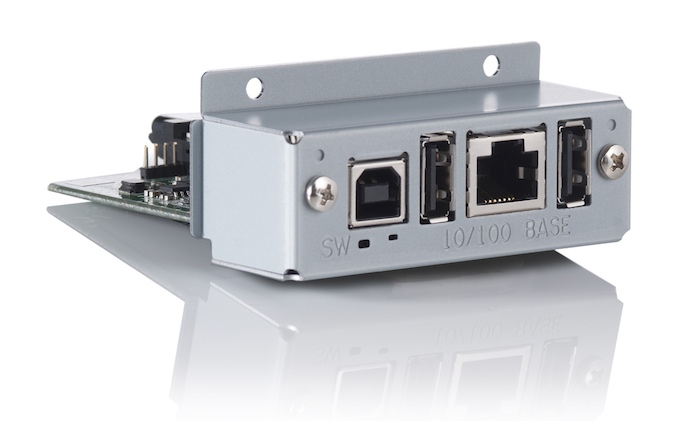 CloudPRNT Interface (IFBD-H101X) - for TSP600, TSP700 & TSP800 Series Printers
Available for Star TSP600II, TSP700II, TSP800II Thermal POS Printers and also soon to be released for the SP700 Matrix Kitchen Printer, the versatile Star CloudPRNT Intelligent Interface provides intelligent printing for Cloud retail, logistics and hospitality applications enabling unparalleled flexibility for remote receipt and remote order printing using a standard receipt printer.
With dual USB and Ethernet ports, the Star CloudPRNT Intelligent interface is also WiFi ready supporting a range of wireless adapters for reliable wireless connectivity.
In addition, the Star CloudPRNT Intelligent interface includes 2 USB host ports to drive peripherals including scanners and to support peripheral charging. This enables simpler system connectivity via a single hub without the need for a local Point of Sale Terminal or PC.
The CloudPRNT Intelligent interface incorporates Star's secure remote and proximity based printing technologies including:
Star CloudPRNT

enabling remote document and label printing from a web server from any network without the need for a local POS terminal, ideal for cloud based POS applications such as restaurant aggregation, click and collect applications and logistics.

Star WebPRNT

providing independent HTML / JavaScript printing for local web based applications.

Star Cloud Services

including Star's Digital Receipt Service and Cloud Analytics.
The CloudPRNT Intelligent interface is easy to set up using web based configuration or simple provisioning via a USB stick or pen drive.
Once installed, the CloudPRNT Intelligent Interface can continuously support future services and features via internet updates.
Stock:

In Stock

Model:

IFBD-H101X CLOUDPRNT INTERFACE U16

Weight:

0.70kg

SKU:

IFBD-H101X